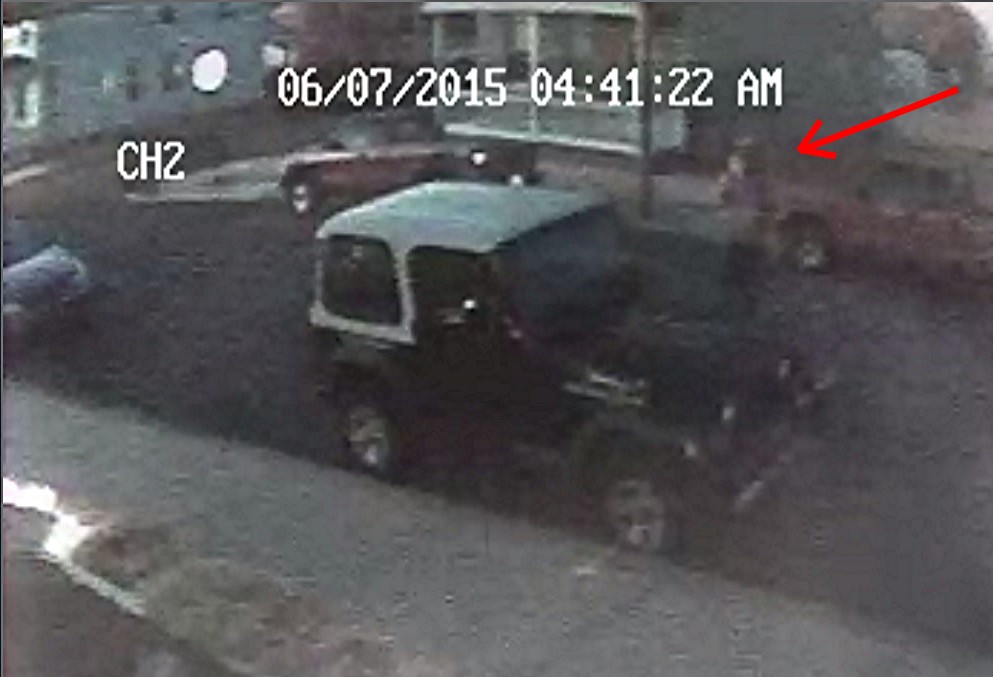 State Police Seek Individual Caught On West Easton Home Security System For Vehicle Break-ins
Published Jun 7, 2015
---
SHARE THIS




Sunday morning in West Easton found at least two vehicles rifled through, with one losing a Playstation gaming system. The incidents occurred along Second Street's 300 and 400 blocks. It appears the victims were only those who left their cars unlocked.
Vehicle break-ins and petty vandalism have increased since West Easton lost steady patrols of police from the City of Easton and have depended on State Police for protection. In past incidents there was no information about the person or persons who were committing the crimes.
This time, however, police have a description and a record of Sunday's thievery. Though it is tooting my own horn, that description is due to me. I had previously written about home security video systems and it came in handy to have one. Not for me, as much as for a neighbor and friend.
I was unaware of the illegal entry into vehicles Sunday morning because my Jeep was locked. The perpetrator only entered vehicles that were left unlocked overnight.
I found out about it when my neighbor, knowing I have video surveillance with a camera that actually provides some coverage to his vehicle because of where he parks across from me, approached me Sunday afternoon and asked if my cameras picked up anything the previous night. He didn't believe he was missing anything, but items were strewn about in his vehicle. Another neighbor on an adjoining block reported that he lost a Sony Playstation from his vehicle. My next door neighbor had a camera stolen from her black Suburban.
I started reviewing the recordings, beginning at 10:00 pm Saturday evening and watched in fast-forward. As the recorded video approached daylight on Sunday I began to think that I had missed the event and would have to begin again. As I prepared to start the video over, the low-life appeared on the screen. The time on the cameras was 4:39:57 am.
He can be seen opening my neighbor's unlocked pickup truck and spending more than a minute at the open driver's door as he searched through the vehicle.
He then approached my Jeep, looking through the windows to inspect what he could see out in the open, but locked doors kept him out. He then moved out of that camera's field of view and entered the next camera, where he provided a good profile of himself.
Moving up to my other neighbors cars, he alternated crossing the street to check the doors and look inside those vehicles. It is this second camera that sees him enter my neighbor's black Suburban. By 4:44:15 he was out of view completely, but a good description was gathered during the time he was in front of the cameras.
A white male with facial hair, approximately 5'8″-5'10" tall, lightly colored hat, light colored shirt or pullover, dark pants, and a large tan backpack. A backpack similar in size to that a trail hiker would use, not a school backpack. A bedroll may be attached to the bottom of the pack.
I had hoped to provide a video for this website, but before I could complete the transfer to my computer, the State Police were knocking on my door, in response to the call from my neighbor who informed them that video cameras had caught the person in the act. The trooper and I reviewed the video and I then turned over the flash drive I downloaded the recording to, as evidence for them to use.
I was able to grab a quick screen shot before turning it over to the trooper. It's grainy as a still picture, but the video was much better and certainly gives local law enforcement enough detail to question anybody matching the description – especially carrying that backpack.
In the meantime folks, remember to lock your cars and as I wrote previously, home surveillance is cheap and easy to install.
You can get a system HERE. It's worth the small investment.
UPDATE 6/12/15: The videos are now posted HERE. A suspect was arrested on June 12th by Forks Township Police for breaking into cars there.
Disclaimer:
Beginning January 4, 2016, the owner of WestEastonPA.com began serving on the West Easton Council following an election. Postings and all content found on this website are the opinions of Matthew A. Dees and may not necessarily represent the opinion of the governing body for The Borough of West Easton.