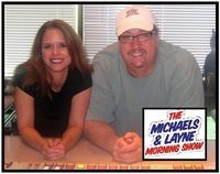 Michaels and Layne Morning Show – 99.9 The Hawk
Published Apr 14, 2013
---
SHARE THIS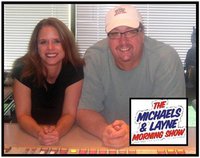 UPDATE (5/7/13): A new corporation that bought the radio station decided not to renew Samantha Layne's contract shortly after this article was written. CLICK HERE to read about her dismissal and what you can do to bring her back.
Every weekday morning I tune into my favorite radio show, Michaels and Layne, on 99.9 The Hawk. It isn't controversial, or political, but keeps me and their other listeners entertained with music I enjoyed in my youth and the banter between the hosts. Rick Michaels is the older of the duo, being 10 years senior to Samantha Layne. Since ladies don't usually want their age known I'll respect any possible desire for Samantha not to have her age stated here. I'll just say that Rick is 50.
The station broadcasts from Paxinosa Road in Easton, so the signal is strong and that's the station's tower you're seeing if you notice a steel spire nearby with dishes along the top, when you're shopping at the Giant in Forks.
I feel a sort of kinship with Rick Michaels. We're both about the same age, divorced, kids, an understanding of tech gadgets, and when they ask for opinions from the listeners about a news story in their, "Free 'em or Fry 'em" segments I'm usually in agreement with him. How can you not like somebody that thinks as you do.
I've never met Rick, though I've seen a picture of him. I could write something snarky and in jest, but he's not bald, so I'll keep my mouth shut. Rick is a cool dude and has been in the radio business for probably more years than he would want to admit.
Samantha Layne often takes the role of  Matriarch on the show. She can scold Rick humorously for mistakes he makes in stating something, or clicking the wrong button during the show that may cause a delay, or the wrong clip to begin playing. If he should state something as fact, it's possible that Samantha will play an official sounding pre-recorded "disclaimer" of his statement. Should he miscue a segment, she refers to him as, "Sausage Fingers."
I met her once at a contest I qualified for to win a new car. I didn't win the car (she couldn't be bribed by a crisp new dollar bill), but I did find and kept a length of her discarded dental floss. It's under glass, within a picture frame I hang in my living room. I'm thinking, eBay, if I ever need to sell something for some quick cash. I don't think that would violate the restraining order.
It's definitely a morning show. Much like sitting down at the breakfast table when I was younger with my own family. Little humorous digs between family members that gets a laugh from everyone else at the table.
The music they play during the show is what I remember from the days when I used to actually keep up with bands, album releases, and concerts. The music is referred to as, "Classics" which is better than the alternative of "Oldies," I suppose. That's the genre of 99.9 The Hawk. Music from Fleetwood Mac, Led Zeppelin, The Eagles, Aerosmith, Journey, Boston, Van Halen, Meat Loaf, and so much more from the days when music didn't have the "F" or "N" words blasting at local gas stations from some car with rims worth more than the junker they were holding up. $10,000 of rims and a bass boosting amplifier system worth more than the car itself always seems wrong to me, but what do I know. I'm old, but I didn't go deaf at 30 making sure my music could be heard a mile away when I was sitting in front of my car speakers.
I'd much rather listen to music that brings back memories of what was playing when Susan Nocks agreed to come over to my house when we were in high school, the afternoon I knew my mother wouldn't be home until 10:00 that night.
I'm lucky that I can listen to the entire show, doing my "real" job is as a driver each weekday. If I schedule it correctly, the times when I'm not actually driving the vehicle allows me to phone in and win a prize for answering a trivia question, or participating in some other phone in contest, such as, "What Rick Don't Know," in which Samantha asks Rick a question and you have to guess if Rick will know the answer, or he won't. Months back, I trusted Rick to know the answer to "What two countries are connected by the English Channel Tunnel." Rick got it 1/2 right. I lost out on a prize I really wanted because Rick doesn't own a globe.
Next time you're in your car, or getting the kids off to school, give a listen to The Michaels and Layne Show beginning at 5:45 am every weekday on 99.9 The Hawk.
Enjoy.
[OK Rick, I did what you asked. Can I have my dog back now… and maybe that t-shirt you cost me, by not knowing the other half of the answer to the tunnel question is, FRANCE?   Merde!]
Disclaimer:
Beginning January 4, 2016, the owner of WestEastonPA.com began serving on the West Easton Council following an election. Postings and all content found on this website are the opinions of Matthew A. Dees and may not necessarily represent the opinion of the governing body for The Borough of West Easton.