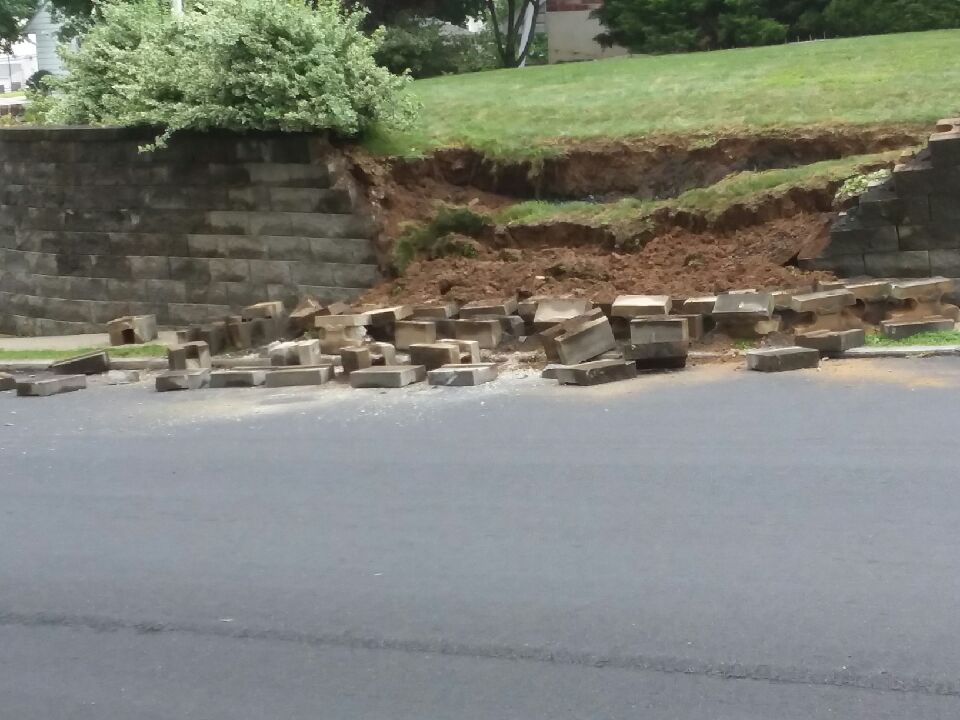 Heavy Rain Causes Keystone Ave. Resident To Lose Retaining Wall
Published Aug 3, 2017
---
SHARE THIS




Resident Karl Hontz almost avoided what was anticipated. His wall had been noticeably leaning out toward the sidewalk. He had recently applied for a permit to build a new retaining wall and had already hired a mason to perform the work.
The permit was expected to be approved today and the work was to begin immediately upon that approval.
Heavy rains this past week and yesterday caused the wall to finally collapse this morning, spilling wall blocks and earth onto the sidewalk and street. Nobody was injured.
Though the weather didn't help Mr. Hontz, he does have his permit today, according to Borough Clerk, Dave Gehman.
The West Easton road crew cleaned the debris from the street where it now sits on the sidewalk with the rest. The sidewalk has been closed off with warning tape and an effort is being made to find a way to keep the soil from migrating further down the street and into the stormwater system before another predicted thunderstorm arrives this afternoon.
Mr. Hontz was contacted by phone and told me his contractor is arriving today to appraise the situation and will begin the reconstruction, if weather permits.
Disclaimer:
Beginning January 4, 2016, the owner of WestEastonPA.com began serving on the West Easton Council following an election. Postings and all content found on this website are the opinions of Matthew A. Dees and may not necessarily represent the opinion of the governing body for The Borough of West Easton.