2nd Street Stormwater Project Update
Published Aug 12, 2017
---
SHARE THIS




There is an old joke about a man who fell from the top of a 20 story building and as he passed each floor on his way down, was heard saying, "So far, so good."
Until the 2nd Street Stormwater Project is completed and the road is open to traffic again, I remain nervous that something unexpected will be encountered, but more optimistic that there won't be a surprise along the way.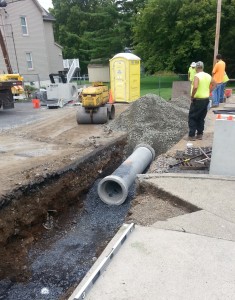 The areas that have been trenched so far have had little problems and the fear of possibly finding rock that might need blasting hasn't been encountered. Drainage pipe is being installed and the water company is using the opportunity of street work being done to replace their older lines.
One resident took the opportunity to coordinate with their own plumber, replacing a water line entering their own home and saving money because their plumber didn't have to do any digging in the street.
I'm hoping that the corrugated drainage pipe being replaced and found to be rusted out might afford the Borough a bit of MS4 credit toward reducing sediment entering the river.
The project is on schedule and should remain so, if weather cooperates.
More trenching still needs to be done but, "So far, so good."
Disclaimer:
Beginning January 4, 2016, the owner of WestEastonPA.com began serving on the West Easton Council following an election. Postings and all content found on this website are the opinions of Matthew A. Dees and may not necessarily represent the opinion of the governing body for The Borough of West Easton.